It's easy being green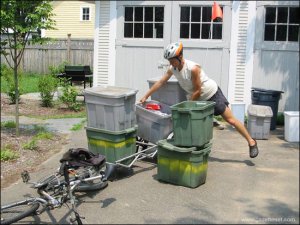 by STEVE PFARRER
[Originally published in the Daily Hampshire Gazette on Friday, August 25, 2006. Used by permission.]
Day to day there are lots of ways to look out for the environment, and there are signs that increasing numbers of Americans are doing just that; even Newsweek magazine ran a cover story two months ago on the 'greening' of U.S. households.
Locally, we found two communities of people who have found ways to live in a more Earth-friendly way ' whether through going without a car or pooling rides, growing their own food or sharing resources with neighbors. The methods may vary, but the goal is the same: leave a smaller footprint on the planet.
Pedal People
When she turned 30, Ruthy Woodring didn't bother to renew her driver's license. She figured she wouldn't be needing it anymore.
She had a better way to get around and to make ends meet.
For the better part of her life, Woodring, of Florence, has made her bicycle her primary means of transportation. And for the last few years, she and her business and life partner, Alex Jarrett, 31, have made their living primarily on two wheels as well.
If you live in Northampton or Florence, chances are you've seen them or some of the people they work with. They're the ones who haul hundreds of pounds of trash and recyclables on long trailers attached to their bikes, with prominent signs saying 'Pedal People' strapped to those big loads.
Starting with just one customer in late 2002, Woodring and Jarrett now have 160 customers in and around Northampton. But using environmentally friendly transportation is not their only focus.
Going carless ' or truckless in the case of their business ' is just a part of a lifestyle aimed at living simply, consuming fewer resources, producing less waste and pollution and having more time to enjoy life to boot.
'I feel like I'm trying to live a life that's more fair and just,' says Woodring, 32, who's originally from Kentucky. 'And I feel fortunate I've been able to do it and make a living.'
Woodring, Jarrett and some of their friends also live communally, grow and preserve a good portion of their food, and even go 'Dumpster diving' to find extra food and goods. For Woodring, who figures she probably earns about $8,000 a year, less is more: Success is measured not by money but by self-sufficiency and the strength of friendships and collaboration, she says.
And, she adds, 'If we can inspire a few more people to do the same thing, that would be great.'
ONE DAY IN LATE July, Woodring pedals up the driveway of a house on Lyman Road in Northampton, her trailer loaded with eight large plastic bins, stacked in pairs and rising almost as high as her head. Laying her mountain bike on its side, she walks over to the garage, opens a garbage can and pulls out a sack of trash. A nose-wrinkling odor rushes up with it.
'Whew, guess that's been sitting for a while,' she says with a laugh as she tosses the bag into one of the bins on her bike trailer.
Woodring is a cheerful woman with short brown hair, wearing shorts and a sleeveless T-shirt today to beat the heat. She isn't fazed by one smelly sack of trash. She pitches some recyclables into another bin, lashes the containers shut with homemade straps of bungee cords and old bike inner tubes, and gets back on her bike to head to the next pick-up.
'I like riding around like this,' she says as she waves to someone she recognizes on the other side of the street. 'You get to see a lot of the town up close at a nice, gentle pace.'
That's something she and Jarrett have been doing since they started the business in 2002. Both had jobs at the time. Jarrett was a cashier and stocker at Cornucopia Natural Foods in Northampton and also worked as a computer programmer (he does most of the administrative work for Pedal People, including running its Web site). Woodring was a counselor at a teen shelter and had also worked at ServiceNet, the regional social service agency.
'We didn't know if we could make this work, as much as we wanted to,' says Jarrett, who notes that by the summer of 2003, they only had 10 customers.
But that was then. Today, after distributing fliers around town and getting good word-of-mouth advertising, they have 160 customers, most of whom receive weekly or bi-weekly service, which costs anywhere from $16 to $34 a month for single-family homes, depending on the volume of materials and how frequently pickup takes place (rates for multifamily homes are higher). Pedal People, who can cart up to 300 pounds per bicycle, take the trash and recyclables to the Locust Street transfer station and are fast approaching a total of 10,000 pickups.
The business, which is set up as a worker-owned cooperative, now has four other members, as well as some substitute riders. It provides a limited delivery service as well.
Three of the Pedal People members ' Jarrett, Woodring and Jackie Dauphinais ' live cooperatively with two people not connected with the business. The three other members of the collective live in their own places near downtown Northampton.
They say that work is not a be-all and end-all for any of them. They earn enough to pay their bills with enough left over for some savings, part of which they pool for expenses such as medical care (they don't have health insurance).
Woodring, for example, says she earns about $600 a month from 20 to 25 hours per week of Pedal People work. She does other jobs as well ' yard work, fixing up and selling old bicycles and delivering groceries (by bike of course).
Jarrett, Woodring and the other Pedal People workers say they want time for other things in their lives, particularly tasks promoting their self-sufficiency. As one example, the backyard of the Florence home where Woodring, Jarrett and Dauphinais live has been transformed into an extensive vegetable garden featuring cabbage, various greens, carrots, squash and numerous other crops. They water it with rainwater they collect from their gutters and store in barrels.
Ben Winter, 30, another Pedal People associate, tends three plots in the Northampton Community Gardens, as well as another vegetable garden behind his apartment, off South Street.
'I like being able to grow a good amount of my own food,' says Winter.
Jarrett says Pedal People also is part of an overall effort he and his friends are waging to make community a big part of their lives. Members run a free bike clinic and repair workshop on Saturdays in the basement of another friend's house, and they're currently working with Northampton city officials to set up community compost bins, to encourage more people to keep table scraps out of the city landfill, thus creating more space there.
At their home in Florence, located right along the city's bike path, Jarrett, Woodring and their housemates have also taken down part of a fence that once enclosed much of the backyard, both to give themselves easy access to the path and to encourage people to visit. They even run a small lending library out of their living room, advertising the hours with a hand-lettered sign posted near the bike path.
'The fence seemed a barrier to us as much as anyone else,' says Jarrett. 'It's a nicer atmosphere without it.'
FOR BOTH WOODRING and Jarrett, bicycles have been a big part of their lives since they were teenagers, Woodring in eastern Kentucky and Jarrett in the Boston area and later in Maine. Both frequently rode their bikes to school and for general transportation. Jarrett jokes that he decided at age 10 that he'd never drive a car because it polluted.
'Then I found myself on my grandfather's riding lawn mower, and I was saying, Oh no, I've already compromised myself,' he says with a laugh. 'I was very concerned about pollution at first. It was only later that I began to think of a bike in more pragmatic terms.'
Jarrett, who taught himself computer programming (he also got some help from his father, who is also a programmer), took a cross-country bike trip when he was 22 that cemented his interest in living a life that would, in a sense, be defined by a bicycle's parameters.
After his expedition, he settled in a rural community outside Peterborough, N.H., but found it tough to get around without a car as there was no public transportation. Through friends in Northampton, he learned that this area had the mix of urban and rural qualities he was looking for and moved here in 1998.
Woodring, for her part, says she always felt confined, even sick, in cars as a kid, and she'd often bike the eight miles to her high school. After graduation, she attended college in eastern Kentucky for a couple of years, then moved to Chicago, where she became a bicycle messenger. She also worked for a Catholic relief organization [sic - Catholic Worker] which, among other things, offered food to homeless people. Eventually Woodring and some of the other workers got trailers so that they could transport food and other supplies on their bikes.
Woodring, who was also completing a degree in Spanish at the University of Illinois, met Jarrett in 2000, when he visited Chicago and the two were introduced through mutual friends.
Jarrett was taken not only by Woodring but by her bike trailer; in Northampton, he'd been borrowing a friend's car periodically to take his trash and recyclables to the transfer station. 'I thought, With one of these, I'll never have to use a car again to go to the dump,' ' he says.
The 6-foot-long trailer, which costs $425, was made by Bikes At Work Inc. of Ames, Iowa, a company that at the time also had a bicycle-based trash and recyclable pickup service in Ames, including at nearby Iowa State University. Pedal People now has three of these trailers as well as an 8-foot-long model that Bikes At Works sells for $475; the trailers can all carry up to 300 pounds.
Jarrett and Woodring maintained a long-distance relationship for a while before Woodring moved to Northampton in the summer of 2002. Later that year, inspired by what they'd learned of Bikes At Work, they decided to start their own trash/recyclable pickup business, since they already had good bikes and the two trailers on hand.
'We thought there might be a niche for us, since the city didn't have its own trash pickup,' says Jarrett. The company, he says, guarantees to match or beat the rates of standard trash haulers. Given that, Woodring believes, some of their customers switched their business to Pedal People in the last few years.
'I think some people felt, why not support us, if we can do the same job?' she says. The environmental advantages of bicycles over trucks are clear, Woodring notes: no air pollution, no noise, no wear and tear on roads.
And aside from heavy construction debris or huge trash Dumpsters, Woodring says, Pedal People can transport just about everything. They've hauled furniture, mattresses, refrigerators, even bins of asphalt from their own driveway (dug up to allow for expanding their garden).
'It's amazing what you can do with a bicycle,' says Woodring. 'Every now and then when I'm working, I think about what it would take to haul 300 pounds on my back. It would be impossible! What a marvel this technology [a bike] is.'
AT THEIR FLORENCE HOME one late morning last month, Jarrett and Woodring were taking a break from their routes to talk in the backyard. Jackie Dauphinais, 24, was working in the garden. Eight people live in the house, a duplex. Jarrett, Woodring, Dauphinais and two others form the 'the hard-core side,' Jarrett said, who share food and living expenses and don't have cars.
Jarrett and Woodring co-own the house with two of the people from the other part of the duplex, who also help out in the garden.
To reduce their overall expenses, Jarrett, Woodring, their three housemates and friends in town buy food in bulk through a natural foods specialty company in New Hampshire, and they can fruit and vegetables as well. Woodring, who spent two summers working at the Food Bank Farm in Hadley, still visits occasionally to pick up some freebies, and she and her housemates will also take damaged vegetables from the farm's fields. Dauphinais works part time on a Hadley farm and is able to bring some produce back from there as well.
Though they'll occasionally buy animal products like eggs from local farm stands, in general they're opposed to conventional farming practices and often do without some perishable foods, like meat. The crew will also go 'Dumpster diving' outside grocery stores and restaurants about once a week to find food ' fruit, cheese, bread ' or other useable items.
'It's incredible how much good stuff gets thrown out,' says Woodring. She notes that in some cases, a store will throw out a dozen eggs if one has broken. In fact, according to a recent report by the Washington Post, the federal Environmental Protection Agency estimates that 96 million pounds of food ' much of it in good condition ' are thrown away annually in the United States, representing 12 percent of the country's trash.
Woodring says she and her friends have also found some decent furniture during their Dumpster runs, like an easy chair they now have in their backyard.
None of this strikes them as deprivation. As Woodring puts it, 'I don't want to pay, or pay someone else, for something I feel I can do or take care of myself.'
She and Jarrett estimate they each bicycle about 3,500 miles a year, mostly for work and running errands. 'We don't do a whole lot of recreational biking,' says Jarrett, laughing. 'We get enough exercise at work.'
When it comes to traveling distances much beyond Northampton, there's always the PVTA, the couple point out, and occasionally they'll get rides from friends. Jarrett will borrow a car a few times a year if he needs to go somewhere well off the bus lines. He also says Pedal People members and other friends have talked of buying a car together and sharing it.
But in general, they find nearly all of what they need within biking distances ' between one and five miles. And the work they do in Pedal People, including riding in snow and rain and hauling heavy loads uphill, has hardened them to discomfort. 'It's definitely a bit challenging [in winter], but we find ways to do it,' says Jarrett.
They say they're not interested in expanding the business that much, though they'd be happy to see others take up similar work. 'There's probably an optimum size for us, although we don't know yet what that is,' says Jarrett. 'But I don't think we want to get bigger just for the sake of being bigger, making more money. We're not interested in franchising or that sort of thing.'
What of the future, though, the idea of saving more money, maybe with the idea of having children some day?
Jarrett says he decided some time back not to have children, though he allows that he'd 'love it if people I live with would have them.' And Woodring believes her 'skills and passions,' as she puts it, lie more with what she's doing now than with raising children.
And Woodring says there are different ways of preparing for the future, rather than the conventional one of building a big bank account. 'There's no telling what the future holds. I think people can look for a sense of security in money, in savings, but I guess I feel more of a sense of security in friendships and connections.
'If hard times come,' she adds, 'I don't want to have a lot of money and see my friends have nothing. I'd rather we all have nothing than be fighting to get it.'
(The second part of this article on HEARTHSTONE VILLAGE is not reprinted here).