Log in to your account.
Services
Information
News

Ready to sign up? Sign up online or give us a call, text or e-mail.
We do pickups all by bicycle, all year round, at competitive rates - without the loud trucks or diesel exhaust fumes. Since 2002, we've done 418,122 pickups and counting! Here are our monthly single-family rates (multi-family and business rates are also available):
| | | | |
| --- | --- | --- | --- |
| recycling, compost & 30 gallons of trash per pickup | $41/mo | $29.50/mo | $16/mo |
| recycling, compost & 45 gallons of trash per pickup | $50/mo | $37/mo | $20/mo |
| recycling, compost & 60 gallons of trash per pickup | $57/mo | | |
| recycling only | $28.50/mo | $21/mo | $14/mo |
| recycling + compost | $31.50/mo | $23/mo | $15/mo |
| compost only | $24.50/mo | $17/mo | $13/mo |
Service area: All service types in most parts of Northampton, Florence, and Leeds, and compost only and full service in some parts of Easthampton, Massachusetts. Check out our service area map.


Flyers: Our two page recycling, trash & compost information flyer is available for download in PDF format:


Trash limits: 30 gallons is an average size trash barrel, or about 2 1/2 standard 12 gallon kitchen bags. We charge for trash by weight or volume, whichever one is greater, assuming up to 1 pound per gallon. Additional trash is $2.50 per 10 gallons or pounds, if your Pedal Person has space to take it. Advance notice or an extra pickup may be necessary depending on how much extra you have.


Recycling limits: For weekly pickups, we'll take up a maximum of four 14-gallon tubs (which we provide) of recycling per pickup. For biweekly or monthly pickups, we'll take a maximum of three 14-gallon tubs. Note that cardboard, when flattened and left outside of the tubs, also counts towards these totals. (For example, a biweekly pickup may be thought of as having 2 14-gallon tubs of paper and containers, plus several medium sized pieces of cardboard.) If the worker has space, extra recycling may be taken for $2.50 per 14-gallon tub.


Compost limits: Compost pickups are included in the cost of any level of trash service. We'll take up to 8 gallons of compost per pickup. If we have space, additional compost counts towards one's trash totals, after which is an extra $.25/pound.

Regular amounts above all of these levels can be arranged. Contact us to discuss your specific situation. See our FAQ and the ten reasons to switch for more information.


Holiday delays: See our FAQ.


Discounts: 15% discount if everyone in your household is 62 years or older or disabled. 22% discount for using City of Northampton trash bags (select neighborhoods only).


Payment options: Check, online bill pay, automatic withdrawal, Paypal, cash and barter. See our payment options page.


Financial assistance: We are currently offering reduced prices to people who cannot afford our normal rates, with the help of a fund kindly donated by our customers. If you feel you need it, you may request assistance from 10 to 50 percent off our normal prices on our sign-up form, or contact us directly to ask about it. These reductions only affect the base price, and do not apply to extra charges.
Call or e-mail us with any questions.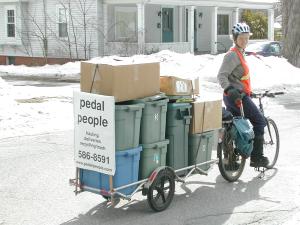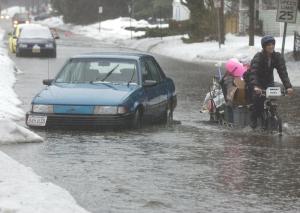 (left photo by Derek Goodwin, right by The Republican)