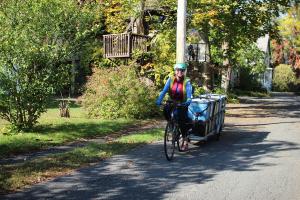 general
recycling/trash/compost
---
general questions
Pedal People Cooperative Inc. is a worker-owned human-powered delivery and hauling service for items under 300 pounds in Northampton, Massachusetts, USA. It was started in December 2002 by Ruthy Woodring and Alex Jarrett. We are now an incorporated cooperative business with 28 active workers.
We now have 17 bike trailers in our fleet. Most are eight-foot long Bikes At Work bicycle trailers with a hitch that attaches to the rear chainstay. The bed is 19" wide and the trailer has a capacity of 300 pounds. We also have 64-inch long trailers, including an extra wide one we use for picking up the downtown trash. For pictures and more information, see the Bikes At Work web site. Two trailers are ones that we've built based on Aaron Wieler's Community Bike Cart Design.
Besides recycling, trash & compost, we've hauled groceries, bicycles, couches, washers/dryers, futons, tables, computers, cats, friends, laundry, a king-size bed, lumber, windows, memorial stones, refrigerators, solar panels, a 100 square foot greenhouse, CSA shares, trees stumps and trunks, sand and leaves.
Keep riding! We have warm mittens, face masks and boots, and studded tires if need be. Over the last few years we've figured out what to wear to be comfortable in almost any weather. See our gear tips page for more details.
We are in business not just to make a living, but to be a living model of a different way to do things in a car- and profit-centric culture. We like to share how and why we do what we do. We are generally available to go to schools, fairs, conferences, etc., that are within biking distance of Northampton, or can participate online. We ask for a sliding scale contribution of $0 to $500 - whatever your organization can afford.
recycling/trash questions
We accept several different kinds of items, which must be separated from each other. Please see our recycling, trash & compost information flyer. Click to enlarge: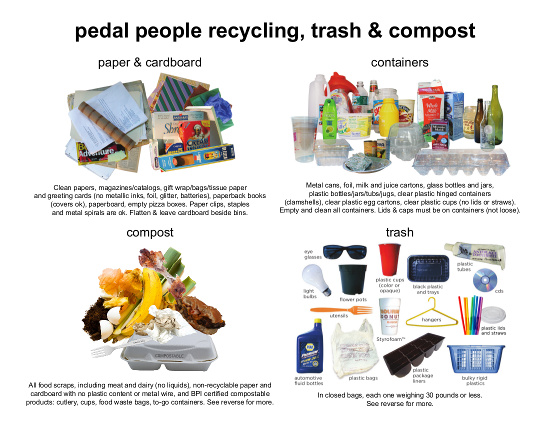 We accept cat litter as trash, not compost. Unfortunately, it's also one of the heaviest things we haul. You can learn how to reduce the weight of your cat litter and/or compost it at home here.
Please see our recycling & trash page for pricing details.
We bill in advance, in 3 or 6-month periods. For the first pickup, we'll start right away, and you'll have 30 days to pay. Our standard prices are for single-family households. Additional trash charges are added to the next bill.
Everything must be out by 8 a.m. on your pickup day. Trash & recyclables will be picked up anytime between 8 a.m. and 5 p.m.
Due to the extra administrative work in suspending and resuming recycling/trash pickups, no credit is given for canceling a single pickup. Partial credit (85%) is given for canceling pickups for less than a month. Full credit is given for canceling a month or more. We do appreciate knowing if you don't need a single pickup, so that we don't have to leave you a note or follow up by email.
In the event of a major storm on your pickup day, we'll call or email you to inform you of a postponement as soon as we know. On average, we postpone two times per winter season. If your pickup day falls on the following holidays, it will be postponed one day: New Year's Day, Memorial Day, 4th of July, Labor Day, Thanksgiving, Christmas. In some cases we might contact you to let you know of a different delay arrangement.
If at any time you are unsatisfied with Pedal People's service, we will be happy to refund the remaining unused portion of your bill.
Refer any regular recycling & trash customer and you'll get a $20 credit.
Since 2002, we've done 463,716 pickups of trash, recycling, and compost — and counting! Take a look at our complete pickup stats.